Jambo! It is a Swahili greeting.
I welcome you to my newly re-designed web site!

Sign My Guestbook
View My Guestbook

My Mission
To supply you with the best in recreated wildlife… whether it be through wildlife restoration (taxidermy), photographic and three-dimensional reference materials, or wildlife art.

Contact Information

Memberships
Current member of Safari Club International and the local chapter Ohio Safari Club
Member of the International Guild of Taxidermy, earning their Master's Certification
Member of the National Taxidermist Association, earning their Award of Excellence and certification in Small Mammals, Gameheads, and Large Mammals
Member of the NTA Judges Association, having judged numerous State Taxidermy Competitions
For a more detailed list of my accomplishments, please check the Accomplishments page.

Artist Profile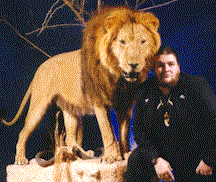 How does a kid from Brooklyn, New York, become a well-known wildlife artist? Well, the same way you get to Carnegie Hall… practice. I came to the art of wildlife restoration not through hunting but because of early exposure to the great works of this art seen in the exhibit halls of The American Museum of Natural History. I would lose my little self in the magnificent lighted dioramas of those dark halls, imagining myself not just in those habitats — watching the animals from behind some tree or rock — but also in one day creating the kinds of works I was admiring. Thus the seed was planted…
My early excursion in this field came by way of the Northwestern School of Taxidermy correspondence course: a twelve-week program that would teach me "the secrets of taxidermy"! I mounted a lot of pigeons in those early days.
Over the years, and through various employment situations at different taxidermy firms, I honed and refined my skills and wildlife study abilities. I made it my personal goal to learn as much as I could, if not more, about the subjects presented to me for restoration.
Additionally, I refined my artistic abilities in oil painting. Having done several small wildlife paintings as well as some pet portraits, I pursued another love of mine. Painting portraits of thoroughbred racehorses was always a quest I pursued. When I received my first paid commission to paint a racehorse, I was floored. It was a small head portrait of a pretty good little Thoroughbred. His name? Secretariat! What a way to get started!!
This was the beginning of a long line of original oils I produced. The most paintings I did of any one horse was also my all-time favorite: the first undefeated Triple Crown winner in history to date — the great Seattle Slew. I loved that horse so much I even allowed him to bite me one day (actually it was Slew's idea). From the late Seventies to the early Eighties I earned a living painting oil portraits of Thoroughbred racehorses. I painted "the great and not-so-hot," as I used to say.
As the great horses were retired off to stud, lesser runners came up but didn't quite hold together. Vet bills came ahead of art commissions for many a horse owner. When the bottom fell out of New York racing for me, I fell back into wildlife restoration. It has proven a very competitive but rewarding field with diversions now leading me into the sculpture of mannikins for the industry and wildlife photography — both in aesthetic and, more importantly, in reference.
As of late I have turned to picking up my brushes yet again, with several wildlife paintings that are in the early stages of planning and development. Look for them to be added to this web site as they are completed. Thanks for your attention. JB.
You are visitor
since 09 August 1998!