We are fortunate to have these special guys still with us! We appreciate each day we still have with them.
Warning! This page is full of gif images, so it may take a long time to load. All images on this page are copyrighted by Artistic Expressions of Wildlife. Images from this page may not be copied and used in any other way (including other web pages or as hard copy images) without the permission of Artistic Expressions of Wildlife.

Clyde

"Clyde Kitain", "Vomit Comet",
"The Great Gray Striped Killer Kitain"

No, he doesn't catch mice
No, he doesn't catch pests
In fact, he usually runs the other way

BUT, we still love him!

Clyde is Floyd's "Little Brother"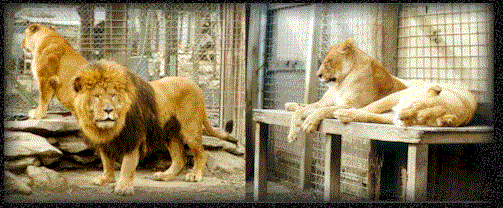 Cujo and His "Girls"
From Left: Dee, Cujo, Sissy, and Babe
The lions, and tigers, and bears (oh, my!) housed on these premises
furthered and completed John's ever-growing education
Cujo is magnificent!

Ganesh

Baby Asian Elephant
born at the Cincinnati Zoo
March 15, 1998
Click on the image of Ganesh
to download an animated gif
of him swinging his trunk!
Warning: Image download
will take some time!

Seattle Slew

"Baby Huey"

The Champion Thoroughbred
in the "Plain Brown Wrapper"

Only Undefeated
Triple Crown Winner — 1977

Sire of many, many champions

John's all-time favorite Thoroughbred

Slew O' Gold

"Soggy"

Champion son of Seattle Slew

First winner of New York
Handicap Triple — 1984

Cheated out of win
at first Breeder's Cup — 1984

Cheryl's all-time favorite Thoroughbred